NORTHEAST KANSAS CITY CHAMBER OF COMMERCE & INDEPENDENCE AVE CID COVID-19 RESPONSE PAGE
HERE IS YOUR
REOPENING GUIDE
FOR KC RESTAURANTS
Please print this 6-point guide to the right to help you manage the phases of reopening your eating or drinking establishment. The guide is brought to you by the Northeast Kansas City Chamber of Commerce.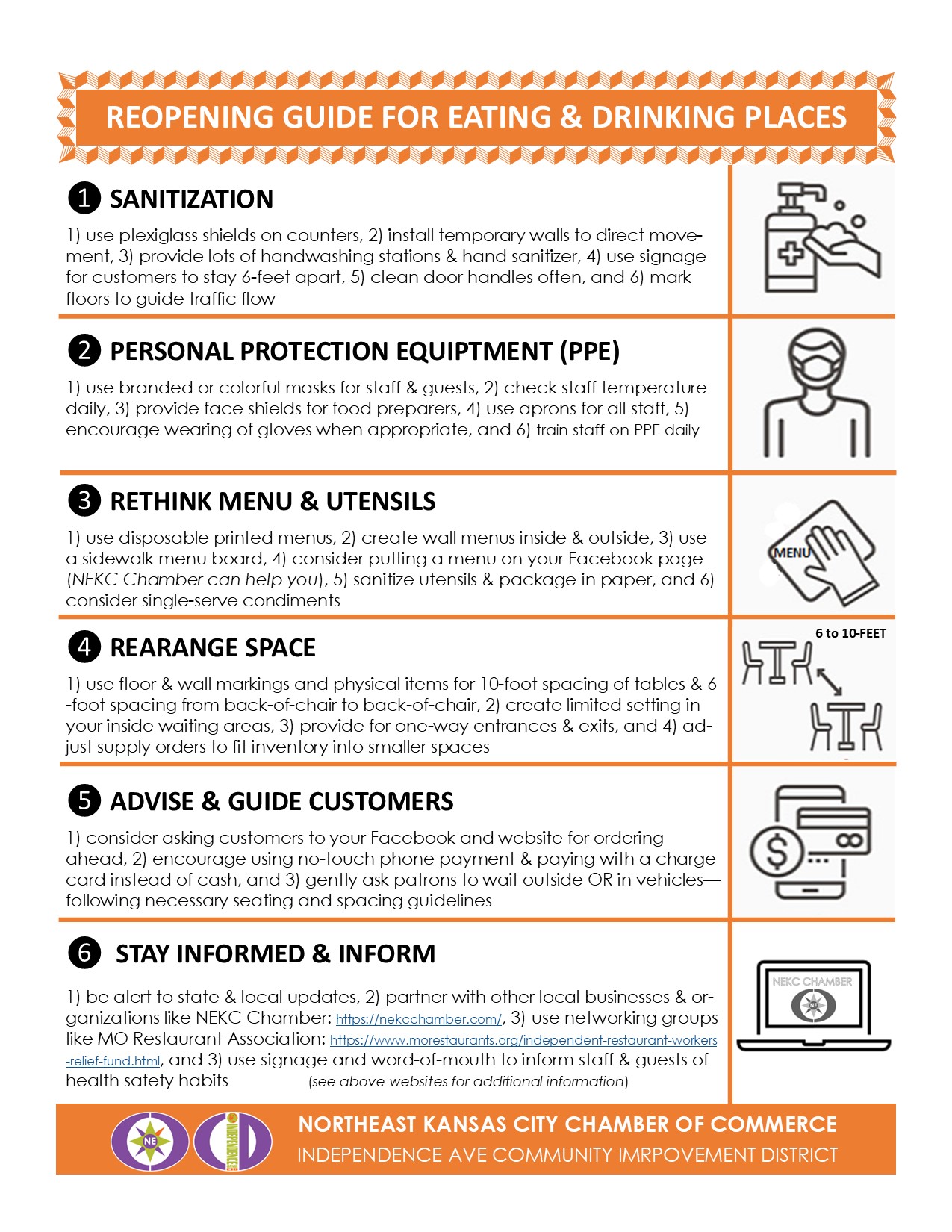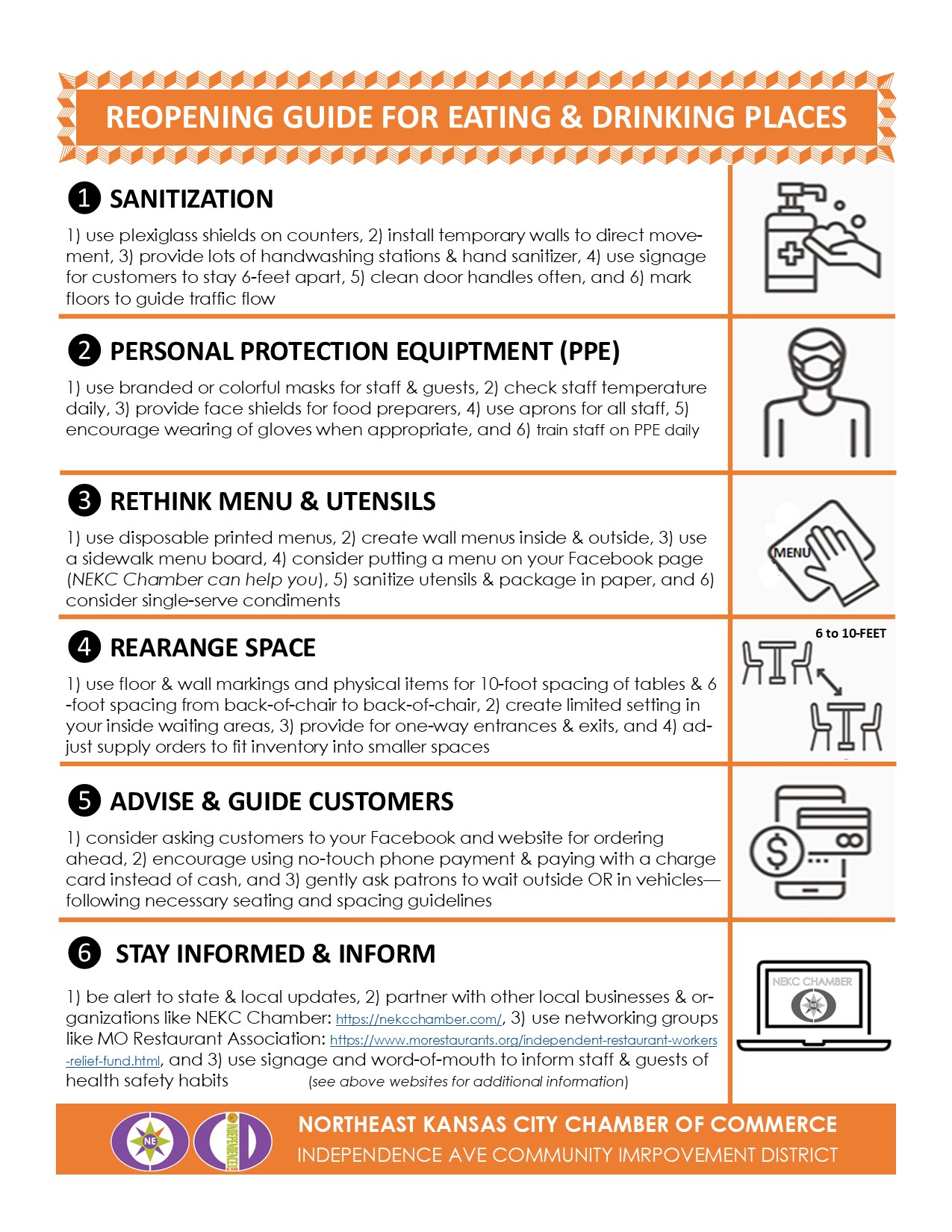 RESTAURANTS IN HISTORIC NORTHEAST KC OPEN FOR CURBSIDE, DELIVERY AND/OR DRIVE THROUGH SERVICE
L
L
BUSINESS OWNERS – PLEASE CONTACT YOUR BANK FIRST
YOUR QUICK GUIDE TO COVID-19 VIRUS SPREAD
PLEASE REFER TO THIS PUBLIC ANNOUNCEMENT BY A CHANNEL OUT OF ATLANTA WHERE THE CENTERS FOR DISEASE CONTROL AND PREVENTION (CDC) IS LOCATED.
CLICK HERE FOR MORE INFO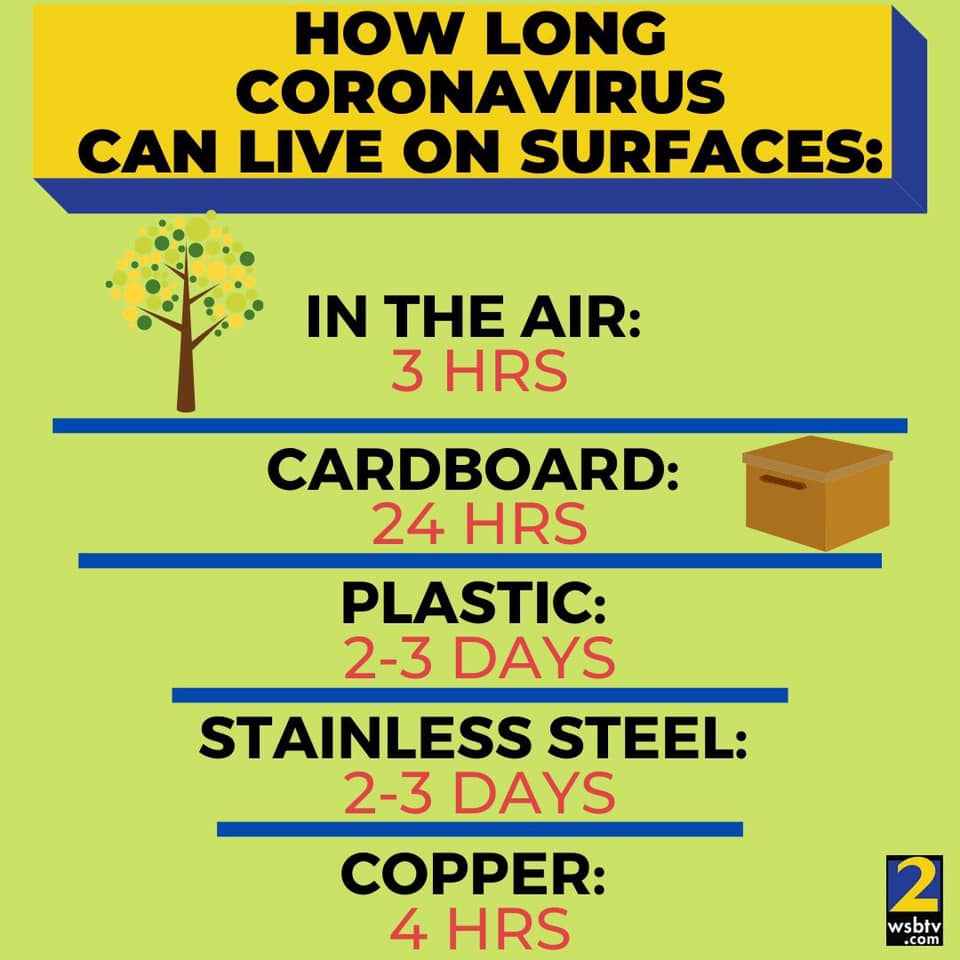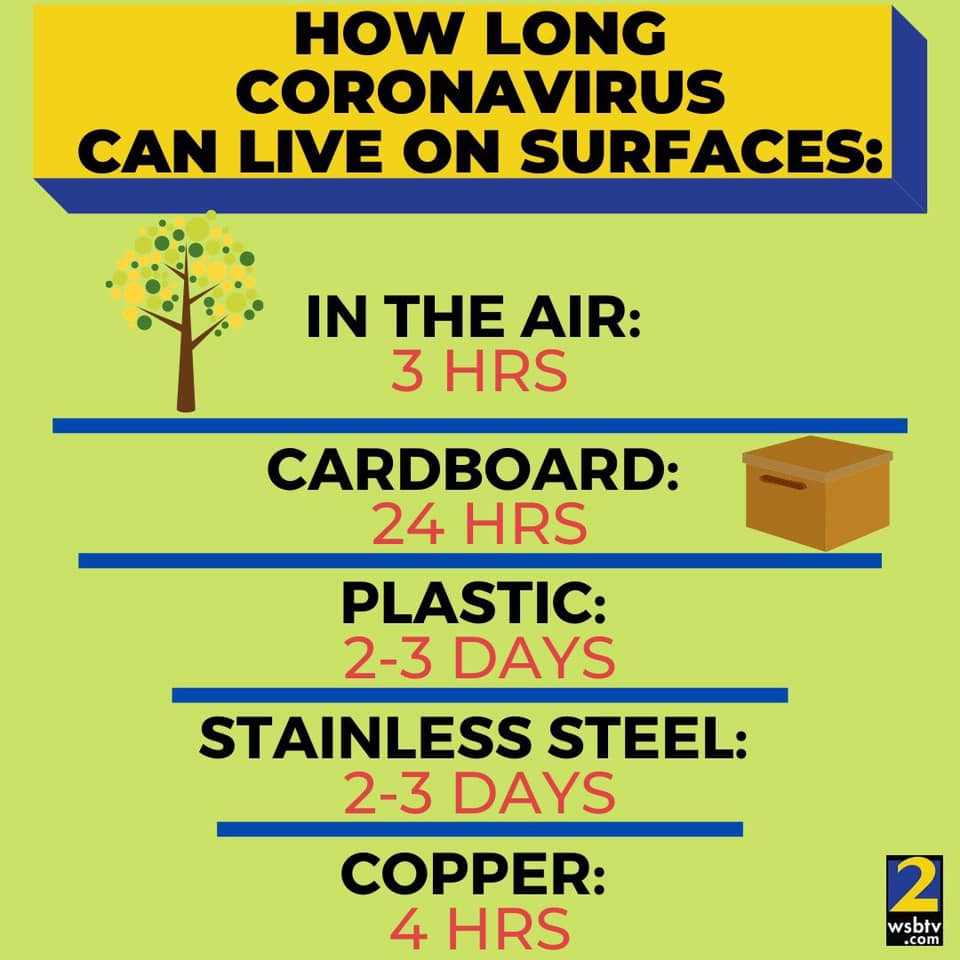 Additional COVID-19 Resources
Click Tabs Below to Learn More
EMPLOYEE RETENTION TAX CREDIT FOR COVID-19 IMPACTED EMPLOYEES
The CARES Act (Coronavirus Aid, Relief, & Economic Security) created a new  for employees who are closed, partially closed, or experiencing significant revenue losses as a result of COVID-19.
U.S. SMALL BUSINESS PAYCHECK PROTECTION PROGRAM
The U.S. Chamber created a small business guide – with everything you need to know about how to apply for relief under the CARES Act (Coronavirus Aid, Relief, & Economic Security), including eligibility, requirements and application guidelines.​
The U.S. Department of Treasury also created a quick one sheet fact guide with information on when and where to apply for the PPP Loan. If you would like to view a sample application as a borrower or a lender and would like more information in general, please visit this website.
​U.S. SMALL BUSINESS ADMINISTRATION
SBA Disaster Assistance in Response to the Coronavirus – The U.S. Small Business Administration is offering all U.S. states and territories low-interest federal disaster loans for working capital to small businesses suffering substantial economic injury as a result of the Coronavirus (COVID-19).
Applicants are encouraged to  for a disaster loan. If you do not have access to a computer or smartphone, please call SBA at 1‐800‐659‐2955 for assistance.​
U.S. CHAMBER OF COMMERCE
Combating the Coronavirus – The U.S. Chamber is working closely with the White House, U.S. government agencies, and foreign government officials to inform and equip businesses with the most important and up-to-date information to prevent the spread of the virus and prepare businesses for the near and long-term impact.​
CENTERS FOR DISEASE CONTROL AND PREVENTION
Coronavirus (COVID-19) What you Need to Know – This is a rapidly evolving situation and CDC will provide updated information and guidance as it becomes available.​
THE PRESIDENT'S CORONAVIRUS GUIDELINES FOR AMERICA
15 Days to Slow the Spread – President Trump and the White House Coronavirus Task Force issued new guidelines to help protect Americans during the global Coronavirus outbreak.​
U.S. DEPARTMENT OF LABOR
Coronavirus Resources – The U.S. Department of Labor has resources to help workers and employers prepare for the COVID-19 virus.
Families First Coronavirus Response Act (FFCRA or Act) – The FFCRA requires certain employers to provide employees with expanded family and medical leave for specified reasons related to COVID-19. The Department of Labor's (Department) Wage and Hour Division (WHD) administers and enforces the new law's paid leave requirements.​
INTERNAL REVENUE SERVICE
Tax Payment Deadline Extension – The Treasury Department and the Internal Revenue Service are providing special tax filing and payment relief to individuals and businesses in response to the COVID-19 Outbreak. The filing deadline for tax returns has been extended from April 15 to July 15, 2020. The IRS urges taxpayers who are owed a refund to file as quickly as possible. For those who can't file by the July 15, 2020 deadline, the IRS reminds individual taxpayers that everyone is eligible to request an extension to file their return.​
U.S. DEPARTMENT OF TREASURY
Resources, Updates, and What You Should Know – The Treasury Department is supporting American workers and businesses who are impacted by the coronavirus. In February, Secretary Mnuchin was appointed to the President's Coronavirus Task Force, where he meets daily with the Vice President and our nation's top health officials.
Governor Parson Emphasizes Importance of Mental Health During COVID-19 Crisis
MARCH 26, 2020
In today's press briefing, Governor Parson and Missouri Department of Mental Health Director Mark Stringer emphasized the importance of mental health during the COVID-19 crisis.
Governor Parson Requests Federal Major Disaster Declaration for Missouri in Response to COVID-19
MARCH 25, 2020
Governor Mike Parson has requested that President Donald J. Trump approve a major disaster declaration for the entire state of Missouri to provide federal assistance for state and local COVID-19 pandemic preparedness and emergency response efforts.
Governor Parson Signs Executive Order 20-05 Allowing Sale of Unprepared Foods by Restaurants
MARCH 23, 2020
Governor Mike Parson signed Executive Order 20-05 ordering the suspension of any prohibition on the sale of unprepared food by restaurants to the public.
MISSOURI SBA ECONOMIC INJURY DISASTER LOAN PROGRAM
Missouri businesses can seek assistance from the Small Business Association Economic Injury Disaster Loan program. The SBA will offer targeted, low-interest disaster recovery loans for Missouri small businesses that have been severely impacted by COVID-19 disruptions.
Businesses can receive up to $2 million in assistance to use toward fixed debt payments, payroll, accounts payable, and other bills that cannot be paid due to the impact of COVID-19. The interest rate for small businesses is 3.75% and 2.75% for non-profits.​Apply: https://disasterloan.sba.gov/ela
​MISSOURI DEPARTMENT OF LABOR
Click here for updates on the ongoing employment impacts from COVID-19. The Department also has a brief Frequently Asked Questions section that attempts to clarify and address the most common issues.​
Unemployed Workers – Missouri has a basic instructional video to aid workers as they file for unemployment in the state of Missouri: Filing for Unemployment Basics tutorial video will outline the steps you will need to take during this process.​
Visit the "UInteract" website to file for unemployment. You will need to create an account and you will need the following information:
The name and address of each employer you worked with during the past 18 months.
Check stubs showing year-to-date earnings from each employer you worked with during the past 18 months.
If you have military employment, a DD-214 Member 4 form if you were separated from the U.S. Military within the past 18 months.​
MISSOURI DEPARTMENT OF HEALTH
March 24, 2020: The Missouri Department of Health & Senior Services updated their testing screening criteria which reflect the CDC's latest recommendations Learn about the criteria here​
MISSOURI GOVERNOR MIKE PARSON
Latest Updates from the Governor of Missouri​
MISSOURI CHAMBER OF COMMERCE
COVID-19 Business Resources – This page serves to be central hub for Missouri business owners to view current temporary restrictions, available resources to help curb the COVID-19 impact on your business and pending legislation addressing COVID-19 and aiming to provide additional relief to businesses.
KCMO MAYOR QUINTON LUCAS ISSUES "STAY AT HOME" ORDER
 Mayor Quinton Lucas, the Clay County Health Department, and the Platte County Health Department issued a "Stay at Home" Order, requiring Kansas Citians, and citizens in Clay and Platte counties to stay at home except for essential activities as our community continues working to slow the spread of COVID19. This order will take effect at 12:01 a.m. Tuesday, March 24 and will last through Friday, April 24.​
 Read the full order here: Stay At Home Order​
 Stay At Home Order Frequently Asked Questions – This order prohibits holding gatherings of any size and closes all nonessential businesses. It does NOT prohibit essential activities like going to the grocery store, receiving medical care, or taking your pet for a walk. Residents can return home from out of state and can leave the state.​
 KC SOURCE LINK
 Explore various topics providing Kansas City entrepreneurs and business owners with resources to navigate their businesses through the outbreak.​
 KANSAS CITY REGIONAL COVID-19 RESPONSE & RECOVERY FUND
 A group of foundations, corporations, organizations and individuals has joined together to respond to the urgent needs of Greater Kansas Citians in the midst of the COVID19 pandemic.The establishment of the Kansas City Regional COVID-19 Response and Recovery Fund will focus on urgent health and human service needs, where the community needs are highest. http://growyourgiving.org/covid #COVD19​
 CURBSIDE KC
 Northland and Kansas City metro restaurants, breweries, wineries and distilleries need our support more than ever during the Coronavirus outbreak. Many businesses are now curbside, takeout and/or delivery through the next several weeks. To help you know who is offering these services, Curbside KC created this master list of all options.  Please review this database to support our local businesses!​ CURBSIDEKC 
 UTILITY ASSISTANCE
 Temporarily suspending payment related disconnection activities for all customers, no late payment fees that might accrue for service provided on and after March 1, 2020 for residential and small business customers, residential and small business customers who had been disconnected prior to March 13 may re-establish service by paying one-twelfth of their account balance, and extended payment options. These changes will be in place through at least May 1.
 Suspension of disconnects and late fees
 Suspension of shut-offs
 Suspension of power
TeamLogic IT of Kansas City has readily available assistance for business owners who are enabling their employees to work remotely and needing access to their company network, servers, emails, business phones, etc. They created a special hotline, available M-F 8 a.m. to 5 p.m. via phone or email, to provide answers to technology-related questions around:
Enabling employees to work from home
Tips for managing a remote work force
How to manage security for a remote work force
Or any technology-related questions they have or issues they are struggling with while they strive to keep their businesses operational.
The company is not charging owners to consult with them nor to answer their questions. Visit website here or call 816-301-6884 Option 1