Photos by Joe Ledford
One could say Independence Avenue lacks curb appeal. Its 3.2-mile Community Improvement District sprawls from the Paseo to Ewing Avenue and includes a mashup of excellent restaurants, seedy gas stations, defunct storefronts and new retail projects.
The area isn't walkable and is often regarded as dangerous. Bakeries with barred windows reinforce the perception, but those bars are left over from when the shop sold stereo equipment.
A group of MBA students from Rockhurst University and the Community Improvement District (CID) team are betting the neighborhood will benefit from rebranding.
Spike Nguyen, owner of iPho Tower Vietnamese-French Bistro, 1447 Independence Ave., says business is good and the community is strong: Crime is down, neighborhood businesses support one another and families feel comfortable in their shops. In fact, business has been so robust that two years ago he opened a second location on Broadway in midtown.
Nguyen is positioned on a high stool at his stainless steel bar. He and his wife, Jessie, both Vietnam natives, opened their restaurant — originally called Pho Hoa — near the avenue's intersection with the Paseo five years ago.
"We gradually see the avenue has changed — it's changed for the good," he says.
It's now home to over 100 businesses and counting, from dentist offices, to a bed-and-breakfast, to a Somali grocery store, to Mexican bakeries. It even has a 300-acre park.
Still, no one is going to discover iPho Tower while out on an evening stroll. Everything isn't neatly laid out in a few blocks.
This isn't Brookside.
But Independence Avenue does have a new identifiable brand: the international marketplace.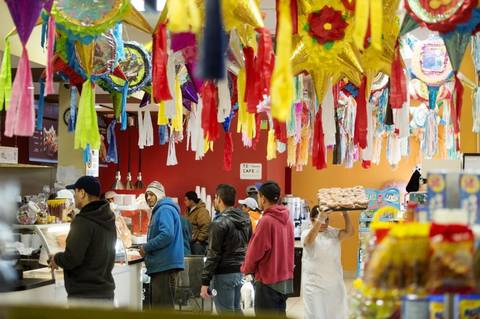 Business owners like Nguyen petitioned the Northeast Kansas City Chamber of Commerce for help a few years ago. If the avenue looks bad and doesn't feel accessible, how can businesses thrive? With enough signatures and enough proprietors willing to pay a yearly fee, the CID was started in January 2014 and is managed by the chamber.
It set out on an uphill battle to dispel negative perceptions and broadcast word of improvements.
Enter the KCMO Business Customer Service Center, a city office that provides resources for businesses. Among those resources: forming partnerships between local businesses and universities.
In August 2015, a manager at the center spoke to members of the CID at a store opening on the avenue. By then, the CID had decided that it wanted a rebranding campaign to tell the story of the avenue's diversity: Residents speak over 35 languages.
Around the same time, Rockhurst University contacted the center requesting new projects for students in its masters of business administration capstone course.
A match was made. Within weeks, the CID pitched the project to a group of students, and a team got right to work.
Recently, a few members of the MBA team and three from the CID met at El Paso Del Norte to discuss what they'd accomplished.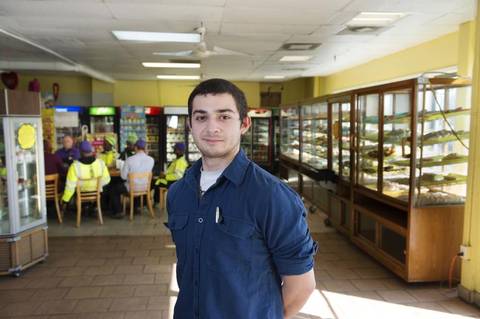 El Paso Del Norte, 3430 Independence Ave., is a combination convenience store, bakery and restaurant. A few shiny red Valentine hearts hung from the acoustic tiles. An old-school dessert refrigerator displayed bright cubes of Jell-O and squares of cake. Locals dropped in to pick up steaming boxes of burritos and tamales.
"Branding" has been a pervasive idea for a few years now and no longer applies exclusively to products. Geographic areas are associated with a particular set of characteristics, too.
Janet Cunningham, manager of content marketing at DST Systems and a member of the Rockhurst team, explained: "A brand goes beyond a tagline, commercial look/feel or imagery. It needs to be something that everyone involved believes and makes part of their day-to-day in order to really take hold and be believable.
"It's important that there is a consistent way to reference the area for supporters, visitors and residents in order to get the most out of any marketing or promotional activity. Today, there are so many different names used for the area as well as varied perceptions: Northeast Kansas City, Northeast CID, Independence Avenue."
It's even confused with Independence, Mo.
"The 'international marketplace' is an excellent brand to rally around since it gives a consistent name to the area but also represents the diversity and varied experiences everyone involved will have," Cunningham said.
Corrine Wilson works in CID public relations. She pointed to the "experience" piece as crucial to drawing in newcomers. In fact, it's part of the branding catchphrase the CID and Rockhurst team developed: Explore, Discover, Experience.
It's a strategy that targets a young demographic.
"We were wanting millennials because it is an adventure to come out here and be able to experience the international marketplace," Wilson, a new college grad, said.
The first step is getting them there.
"It's about reaching out," Wilson explained. "It's about asking for volunteers. The whole point is people being able to come and support the growth of the avenue rather than just coming and expecting it to be here. And so we're putting out a call — there are a lot of different projects going on in the Northeast. There are a lot of organizations reaching out."
Joshua Gaunt's first experience with the avenue was as a Rockhurst team member. When the group began speaking with individual businesses about what sort of assistance they might like, the team had to quickly learn to embrace cultures they were inexperienced with in order to be productive.
"It was tough negotiating with them what they wanted, what we wanted to do, so you couldn't just go in and say every business is the same on Independence Avenue because they were all extremely different," Gaunt, a pharmacy technician, said.
Carl Markus Jr. owns Inn at 425, 425 Gladstone Blvd., and is a CID ambassador. As a 19-year resident of the neighborhood, he's well-aware that business models can be different here. They can vary by culture.
"Sometimes it's not the dollar that they get back from it, it's the enrichment of the life of their own people. … It's not about the almighty dollar," Markus said.
This attitude fosters a sense of community. And a culturally diverse community creates an opportunity for visitors.
"You can go in one business and you can have Hispanic, and go in the next business that you think is Hispanic and you have Mediterranean, and you can go into the next business that you think is Hispanic and you have Spain not Mexico," Markus said. "You have Italian and Vietnamese and Chinese, so it's that you get a little bit of the culture of all those countries."
Cunningham jumped in: "We're not going to blend everybody together. You're getting an authentic individual experience with each of the places. Which is an interesting challenge for a brand, right, because you want a brand to be somewhat consistent, but the brand is the diversity."
Because of the area's size, the Rockhurst team focused on one portion.
The team selected the site at Independence and Prospect avenues, which they saw as robust and diverse. But in October, two firefighters lost their lives and four businesses and an apartment complex burned at that location.
The team and the CID shifted their attention to the stretch from Prospect to Chestnut. They designed light-pole banners for the international marketplace featuring images of different continents and the words "Explore, Discover, Experience."
They'll be up soon.
Vanessa Portugal, manager of El Torito III Market, hopes the banners will make Independence Avenue stand out more.
El Torito, 6200 Independence Ave., is six blocks from the edge of the CID's boundary. Though it falls under the CID's jurisdiction and is near some auto shops and other restaurants, it feels remote.
Portugal has worked at the grocery, owned by Leo and Laura Bardo-Gonzalez, for five years and grew up in the neighborhood. She has spoken with members of the Rockhurst team and said she welcomes business assistance and advertising, but El Torito isn't hurting without it.
"I'm not trying to say we're the best or anything, but we're good," she said with a smile, sitting in her office just past women making tortillas.
Her customers come from nearby counties and sometimes other states. Grocery management runs a radio ad about once a year but, mostly, word-of-mouth has been working fine for them.
Portugal thinks it's the beef-head tacos that keep them coming back. "We put a beef head to boil and we make tacos out of it and those sell like crazy."
El Paso Del Norte, owned by the Iniguez family, is about five blocks from the strip where the banners will debut. It was opened by father Saul Iniguez about 19 years ago.
Son Alex Iniguez says that in the past two years he has seen a lot of changes in the neighborhood.
He cites improvements like less graffiti and fewer vagrants and chalks it up to the presence of a security team that's been on patrol.
And though the Iniguezes see a steady stream of customers from all demographics, Alex has also been trying to change the menu to include versions of Mexican food that will appeal more to the typical American palate. He wants the store to cater more to the shopping experiences Americans are used to.
Call it rebranding.
These days, the Rockhurst team's project has been turned in and graded: They got an A. And most of the members plan to continue to work with the CID even after the next batch of MBA students gets to work.